This article goes over how to complete the Take Survey task on the home screen. We will go over how to take a survey, and save your progress.
Step 1: Find the Survey Task
The Survey task will appear on your home screen under the To-Do section, or in the Ad-Hoc Button menu. The title of the task will be the name of the survey, not "Take Survey". It will look something like this: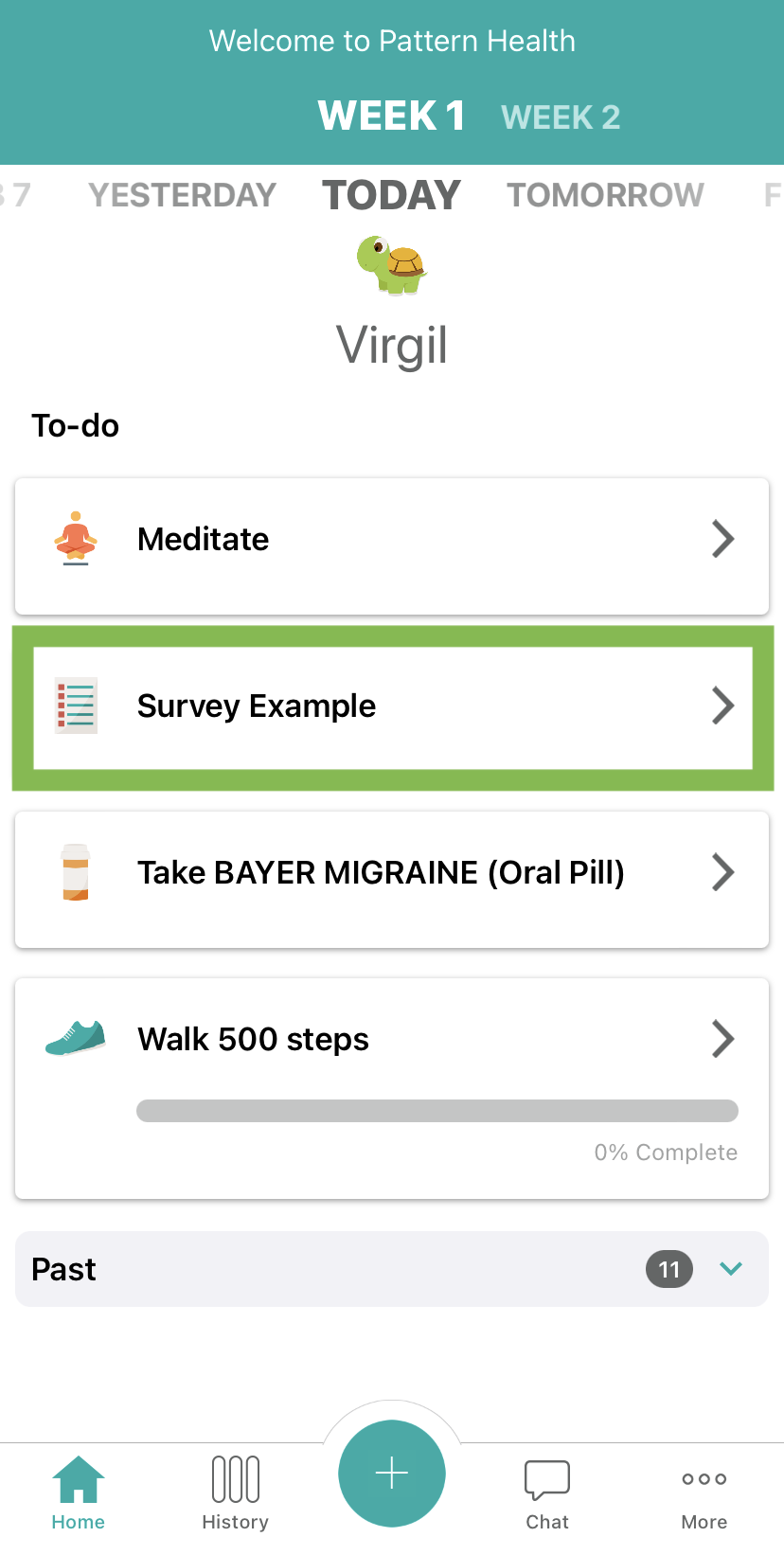 Step 2: Navigate the Survey
When you open the survey task, you might see an information screen that gives some preliminary background about the survey. Alternatively, you might just see the first survey question.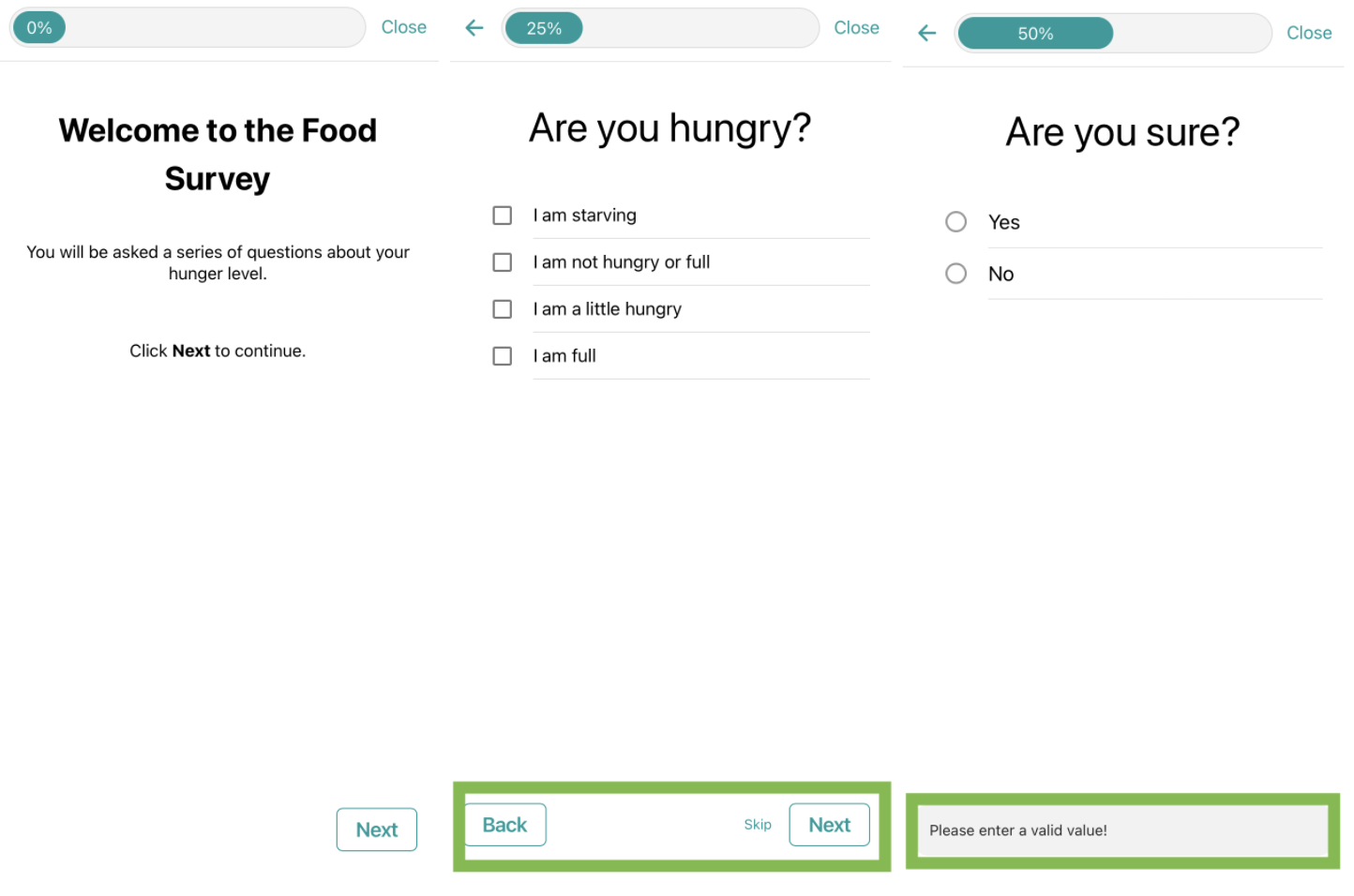 At the top of the screen, you will see a progress bar that visualizes how much of the survey you have completed, and how much you have left.
Beneath the survey question and answer choices, you will see a navigation bar. Every survey will have Next and Back buttons. This will allow you to move throughout the survey. You might also see a Skip button at the bottom of the screen. That means the question is optional.
If you try to click Next without answering a mandatory question, you will see an error message appear at the bottom of your screen.
NOTE:
If you are responding to a multiple-choice question with ONE answer, you will move forward in the survey automatically after answering the question. If you wish to go back, simply click the Back button at the bottom of the screen.
For other question types, you will have to click Next to move on to the next question.
Step 3: Answer Survey Questions
The appearance of the questions in your survey questions can vary dramatically. In all cases, your survey question may be at the top of the screen. You will find your answer choices beneath the question. Answer types may include: free text, multiple-choice, scale, yes/no, and more.
For some questions, you will be able to select more than one answer choice.
Step 4: Save Your Progress
If you want to leave a survey before finishing it, you may do so by clicking the Close button at the top right corner of the screen. You will be prompted to save or discard your progress. If you choose to save your progress, a progress bar will appear at the bottom of the task on the Home Screen. This shows you how much of the survey you have left to complete.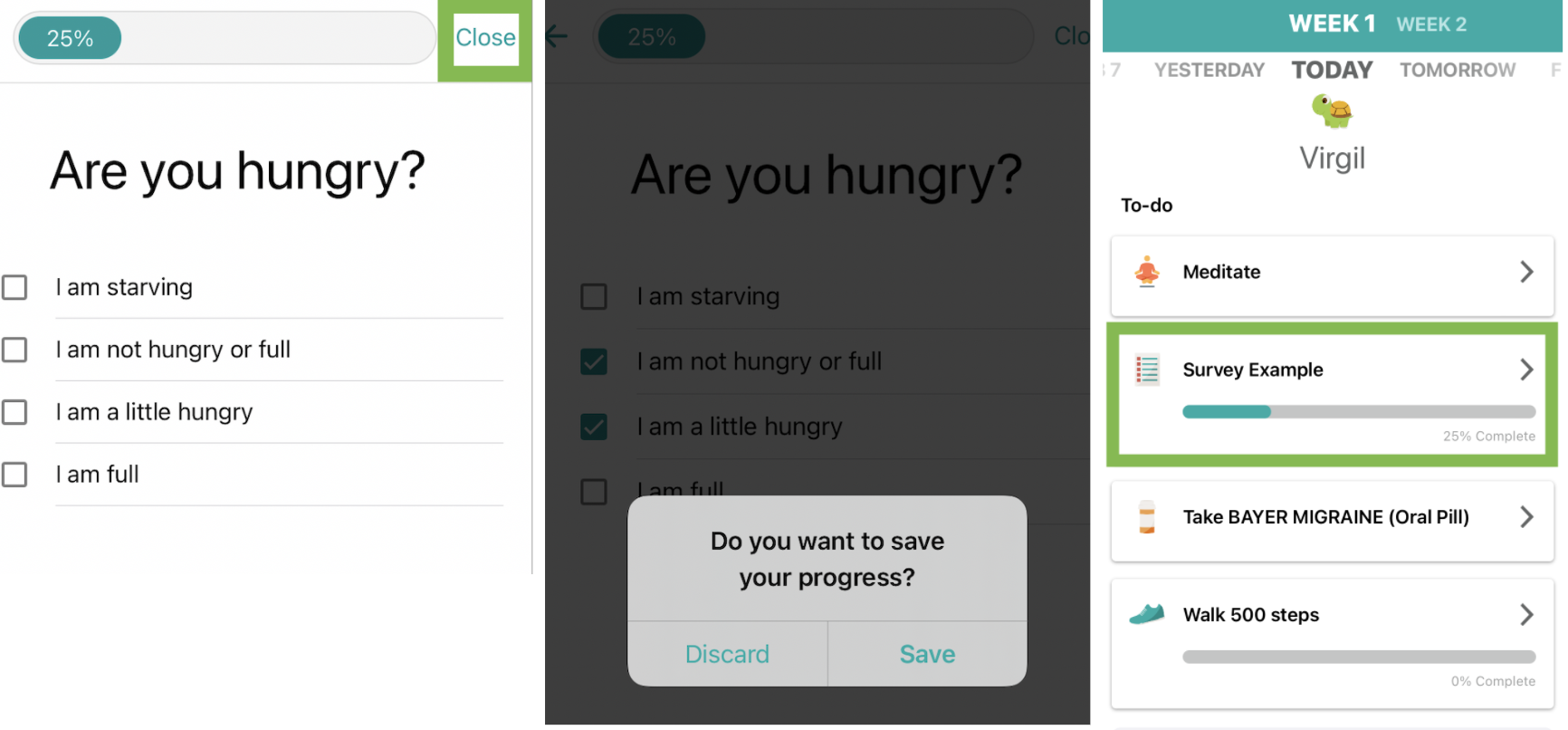 When you return to the survey, you will be directed to the last question you answered.
Step 5: Reviewing Past Surveys
Unfortunately, you cannot review the results of past surveys today. We are working on adding this feature to the Pattern Health App. Check back here for updates.